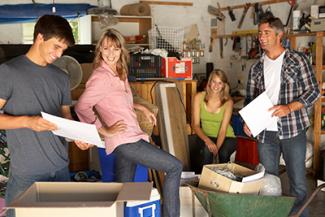 Safety Tips: Buying and Selling Online
This year, many of us got a much more up close and personal relationship with our families, our houses, and our things. And many of us realized: we have way too much of all three. While you can't get rid of your 6-year-old or your spouse, there are plenty of places you can go to unload excess stuff.
Important Safety Tips
Meeting strangers from an online sale comes with some potential risks. Here are some tips when meeting people you met online:
Bring a friend or a family member with you.
Tell multiple people who you are meeting, where you are meeting and when you are meeting them.
Always meet the person you are buying/selling in a public place and during sunlight hours. Libraries and grocery store parking lots are often busy places you can safely meet someone. Some local police stations also have "Safe-Trade Stations".
Agree beforehand how the monetary exchange will be made. It is not recommended to accept a personal check for payment. If you are carrying a lot of cash, keep it concealed until you are ready to make the purchase.
If the item being purchased requires a title, never accept the purchase without the title.
Posting Tips:
Take (multiple) great photos: It may take you a while to get the hang of it, but good photos are key to getting your stuff sold. Experiment with background and lighting until you have an image that accurately captures the item and makes it look as good as possible.
Be upfront with buyers: If the item you're selling is damaged or has any kind of defect, be sure to put that in the description. You won't waste time with buyers who aren't OK with it, and you'll be more likely to get a positive rating for "item as described."
Refresh your listings: Many resale sites have options to refresh listings so that they're more current and so that potential buyers get to see them anew. If your item doesn't sell right away, take advantage of some of these options and be patient.
Know when to let go: At a certain point, you may need to decide that having less stuff is more important than making a few bucks. If your once-expensive sweater isn't selling for the amount you think it deserves, it may be time to lower the price or just drop it off at a secondhand store.