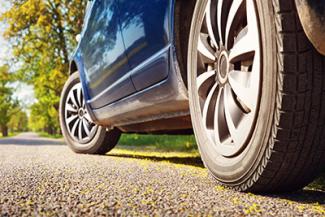 Tires 101: Everything You Need to Know to Stay Safe on the Road
Good tires that are in good shape are critical to safe driving. Every driver should know a little bit about how to assess their tires and how to purchase new ones when they're needed.
How do I know when I need new tires?
There are a few things that might indicate you need new tires. First, if your tires are older you may need to get them replaced (experts say anywhere between 6-10 years). At the very least, you should get them checked out. The second method is what's known as "the penny test." Insert a penny into the groove of your tire, and if the tread doesn't reach the top of Abe Lincoln's head, that means it's very worn down and your tires are in trouble. Finally, if you simply have no idea whether you need new tires, just ask! Be sure to use a mechanic you trust, and if they do suggest you get one or more tires replaced, have them explain their reasoning.
Do I need winter tires or will all-season tires do?
Most experts agree that winter or studded snow tires make a significant difference for those who regularly drive in serious winter weather. If you live in a climate that sees real snow, ice, and sub-zero temperatures, and you can afford snow tires, then it's definitely worth it. If you live in a temperate climate, all weather tires should be just fine.
Do I have to replace all four tires at once?
Not necessarily. Sometimes one or more of your tires will become worn and need replacement sooner than the others. A good mechanic will tell you which tires are still decent, and which ones definitely need to be replaced.
How do I know what kind of tires I need?
Your vehicle manual will tell you the basic specifications and requirements necessary for tires on your car. After that, it depends on performance, durability, and other factors that matter to you. Consult Consumer Reports, read customer reviews, and do some research to find the best options for your car, lifestyle, and budget.
What are tips for shopping for tires?
There are a few things that can help you get the best deal on a set of new tires. If replacing your tires is not urgent, it may be worth waiting for a better price. Contact your local tire retailers to find out if they have any upcoming sales or seasonal deals. Another simple way to save money is to do a little shopping around. Once you have determined the tires you need, just make a phone call to three or four places to get an average price and negotiate the best deal.
Are you ready for a flat tire?
As long as you're thinking about tires, it might be a good time to think about what you would do if one of them went flat. When you get your tires checked or changed, be sure to also look at your spare and make sure it's in decent condition and the air pressure is OK. Be sure that you have the tools to change the tire, and know how to use it. Don't neglect your tires this winter, and they won't neglect you.
For any of your auto insurance questions, call or contact CFA Insurance Agency, LLC today.